A BACKPACK WITH A REMOVABLE SOLAR CHARGER
Date: 2018-03-29
---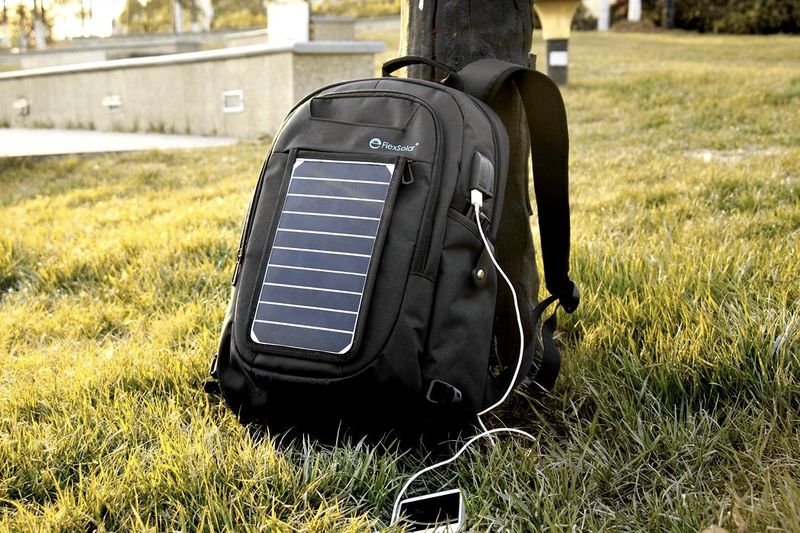 Imagine having to pay for electricity every month, all your life (as the majority of the world does), that's electricity to power your phone, laptop, tablet, watch, etc.
Or, imagine the flipside. Owning a solar panel and battery and not having to pay for electricity but, rather, capturing your very own.
Flextech has truly spearheaded the solar-friendly-consumer movement. Their range of solar panels helps you tap into our solar system's largest energy source to power your lives. Their latest offering, the SunPack backpack, is the most useful in their series of products. Giving you storage for your devices as well as the means to charge them.
If you hate electricity bills or having to look for plug-points, and you love backpacks, then the SunPack may just be the best solution to your charging problem. With Flextech's powerful, weatherproof solar panel integrated into it, just being outdoors is enough to generate electricity! Designed to seamlessly integrate Flextech's solar panels, the bag comes with all the features you'd want from a good backpack.
It includes compartmentalised storage, a waterproof design, anti-theft locking, RFID blocking pockets for your cards, and integrated USB and headphone jack for juicing your devices plus listening to music on the go. What steals the show, however, remains Flextech's solar panels. Designed to be hardy and flexible, the panels are waterproof, dustproof, and generally weatherproof. Designed with an undulating texture, the panels can capture solar power efficiently at any time of the day, no matter where they're facing, basically your backpack doesn't need to directly face the sun.
The solar panel on the SunPack is detachable and slides into its own compartment when not in use. If you do want to take it out, snap it to the magnetic patch on the front of the backpack to secure it and keep it in place. Both the patch and the panel come with reflectors too, allowing the backpack and its wearer to be visible in low-light conditions. The panel connects to the USB outlet on the bag, allowing you to power any of your gadgets (from your phones to drones) or even store the power for later in an external power bank. Just being outdoors or even in ambient light is enough to generate energy… so why would you pay for electricity when you can just tap into the world's largest free energy source?!
You can check out the full campaign for SunPack on Kickstarter now!